Cancun Family Resorts
Cancun offer visitors white sand beaches right on the Caribbean Sea.  It is in prime position in the Yucatan peninsula of Mexico.  Family visits are extremely popular to the area and the choice of accommodation within the 25km Hotel Zone is varied and interesting.
Cancun Club Med
The all-inclusive resort sits on its own peninsula measuring 22 acres at the southern end of the Hotel Zone.  It offers visitors a large stretch of white, sandy beach.  Around the point, there is a private shore where you can snorkel over coral, with another beach where water sports takes place.  There is also a lagoon section to the resort.
Apart from its location, Club Med offers great programs for kids, with fun activities arranged for all age groups.  It has a special facility for teenagers where they can hang out and get involved with activities.  The resort offers special excursions, a range of fitness classes and you can learn new activities, such as trapeze, tennis and water sports.
If you are looking for good programs for kids, this is the place to go.
Crown Paradise Club Spa and Resort
This resort offers a range of features for family fun.  It does not offer you extended grounds, but there are a lot of fun events including a games room, minigolf, several pools and a water park for the children.
Crown Paradise also has a Baby Club for those aged from 18 months to three years, a kids' club for the four to 12 year-olds, along with an area for teens.  If you have three children under the age of 12, they can share your room.  You will also receive greens fees at the Cancun golf club.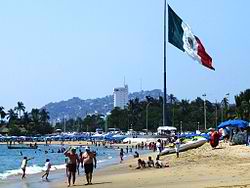 Great Parnassus
This resort is placed at the southern end of the Hotel Zone.  It offers great prices and has been designed for families.  Families can gain access to baby care, teen clubs, kids clubs and rooms for families of five.  Everyone can be assured of having a fun time, with five pools, indoor minigolf, a 400-seat theatre that screens movies for families, and a water park as part of the kids' club.
Requirements
There are several other family resorts in this area of Mexico, however before you leave home, you should ensure that you have all the necessary paperwork required for your trip.  You can compare prices for the different resorts and make a decision on the one that best suits your needs.  Aside from confirming your booking for your accommodation, you should ensure that you have you and your families' passports, your vehicle permit and the registration papers for your vehicle.  Most importantly, you require Mexican auto insurance if you are going to drive in the country.  It is quite easy to obtain this insurance as you can buy it online from this URL.  You should make an assessment of your insurance requirements, go online, compare the available options, purchase the policy and print a couple of copies of the policy.  You should consider adding some extras to the basic policy, for peace of mind.
Regardless of the resort you choose for your family trip, you should include a trip to the Mayan Riviera which is situated south of Cancun.  You and your family can enjoy the sights of the coral reefs, the theme park and Mayan ruins.