Craving a Good Carne Asada Taco? Our Team's Top Tips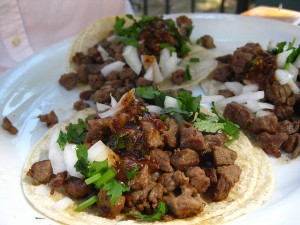 Craving a Good Carne Asada Taco?
Your Mexican insurance with MexInsuranceStore.com is great for making that quick drive across the border for a quick taco or other savory dish. However, there are those times when you just can't get away for a few hours. While your Mexican auto insurance policy is ready for your next taco run, you can bring a bit of Baja back to your kitchen as you savor the flavors you love.
Easy Carne Asada
A carne asada taco is delicious when it is served piping hot on a freshly-made tortilla. Many people will ask their Mexican friends for a good recipe, but the funny thing is that you will probably get a different recipe from every person that you ask. Next time you drive across the border for a taco, go early enough to find your favorite taquero preparing his meat. You may be surprised to discover a pile of beef with heaps of salt covering it. Needless to say, your own tacos can be completed simply with salted beef, but you can experiment with as many seasonings as you like. Pepper, garlic, lime juice and paprika are all great choices. You might even want to buy a few packets of fajita seasoning at the supermarket. It's really that simple.
Another important key to serving great carne asada tacos is keeping the meat moist and hot. On a typical grill, gas or charcoal, you will probably dry the meat out as you cook. Members of the team for  MexInsuranceStore.com have eaten many dry tacos in their day, and it usually boils down to poor preparation. If you love the smoky flavor of grilled asada, then make sure that you pull the meat from your grill before it can dry out. Keep it piping hot by covering tightly with foil. Better yet, place meat that is done in a pressure cooker and close tightly to retain heat and moisture. Most taqueros at busy stands actually use a metal griddle rather than a grilling surface, a means of preventing much of the drying.
Don't Make a Taco Run Without Mexican Insurance

It's not legal to drive without proper Mexican auto insurance policy in Mexico, not even for a quick taco date. Be sure that your vehicle is covered so that you don't end up in trouble in case of a wreck.
Mexican Insurance with MexInsuranceStore.com comes with FREE Legal and Roadside Assistance