Fishing Regulations In Mexico
Mexico has great fishing destinations and many people make this part of their vacation on an annual basis.  The regulations related to fishing in Mexico are not too complicated and it benefits everyone.  In the past, Mexico did not have adequate infrastructure or police officers to enforce the regulations that were in place.  However, this has led to over-fishing in many areas and everyone has suffered because of it.
The enforcement of fishing regulations is being handled much better now, with vessels being impounded and massive fines being issued for not conforming to the rules.  It is in the best interest of all concerned to conform to the regulations.  You should bear in mind that the regulations are not implemented to limit the enjoyment you get from fishing.  It has been put in place to ensure that you will be able to continue fishing for many years to come.
If you are going to fish from a boat, you will require a fishing license for everyone on the boat, irrespective of their age or whether they intend fishing or not.  If you intend fishing from the land, you will not require a fishing license.
You are allowed to have only one hooked line or rod in the water, per person.  However, there is no restriction as regards the replacement item number that you can hold.
Your fishing license allows you to catch fin fish only.  You are not allowed to catch any mollusks or crustaceans, except for squid, and the capture of squid is prohibited for everyone.  Marine mammals, turtles and totuaba are protected by the Ministry and it is not allowed to capture it at any point.
If you wish to fish for bottom fish, you are allowed to make use of a vertical line with a maximum of four hooks.
Electric reels are restricted to fishermen who are disabled only.  Prior to using an electric reel, it is a requirement to obtain written authorization from the Ministry.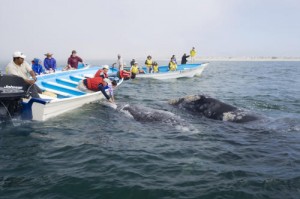 Limits
When fishing at estuaries or in ocean water, the limit per person per day is ten fish.  This is limited to five of one species, except species of Shark, Giant Seabass and Billfishes where only one specimen of the group is allowed each day.  Each one counts five toward your limit of 10.
On rivers, dams and lakes, the limit is five fish each day.
Violations
It is a violation to capture and keep alive any type of fish for ornamental reasons.  You are not allowed to receive financial gain from fish obtained via sport fishing.
There are several other limitations and violations related to fishing in Mexico.  It is best that you are clear on the regulations that are in place, prior to fishing.
Before you go out on your boat, you should ensure that you carry all the necessary paper work with you.  Aside from your fishing license, you should also ensure that you have valid Mexican car insurance for both your car and your boat.  This can be obtained quite easily online.  All you need to do is search for Mexican auto insurance and determine the most suitable policy for your needs.  You can pay for it online and immediately print a couple of copies to keep with you whilst traveling. You may go to this URL to get the best deal on your Mexican insurance.