Mexico City Visit On A Budget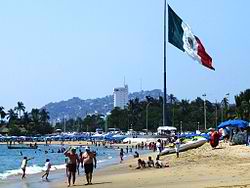 Every holiday costs, but you can visit Mexico City, one of the largest cities in the world, on a budget.  All that is required is that you find out as much as you can about the country and the city and see this vibrant city for much less that you would normally spend.
Best Time to Visit
Mexico City is situated more than 7000 feet above sea level.  It offers visitors a warm climate, with very little change in temperature all year round, although the evenings are normally cooler.  From October to March it is the dry season and during this period air pollution could become a problem.  May to September is when you will experience cloudy skies, with rain being an almost daily occurrence.  The busiest tourist times of year are July and August.
Accommodation
It is not difficult to find comfortable, reasonably priced accommodation in this city.  To find the best accommodation, you should do online comparisons as there are websites that slash their normal rates to fill rooms, particularly at short notice.  Many of the high-end hotels that cater predominantly for business visitors cut their prices over the weekend simply to fill their rooms.
Mexico City Attractions
Unlike most other global cities, the prices you are asked for museum visits and other attractions are cheap.  Many of the attractions offer free admission and the fees that are payable often range from about $1 to $3.
Starting your tour of the city in the downtown area is a good idea.  You can visit the Plaza de la Constitución, which is not only the largest square within the city, but is surrounded by other sights.  The Palacio Nacional is one of these.  It is the seat of the government and was built on the site of Montezuma's residence.  There are beautiful murals by the artist, Diego Rivera, which you can view inside the palace.
The oldest cathedral in the Americas can be accessed from the plaza.  Construction of the cathedral commenced during 1573 and it was finally completed during 1813.
To one side of the cathedral, you can visit the ongoing archaeological dig of the Templo Mayor which is twin pyramids that hold an important place in Aztec religious beliefs.  There is a museum which is attached where you can view relics which have been dug up in the area since the ruins were first discovered during 1978.
Transport
If you are going to be driving to Mexico, the first thing you require is Mexican auto insurance.  You should try and obtain this policy before you leave your home country.  It is quite easy to buy Mexican auto insurance online and you have the facility to print the policy in both English and Spanish.  You should not drive on Mexican roads without adequate insurance cover. You can buy your Mexican insurance policy from this link.
Besides obtaining this vital policy and keeping a copy of it with you at all times, you may not want to make use of your vehicle in this busy city.  Mexico City offers visitors buses and trains, and both are cheap to use.  The one problem, however, is that public transport tends to be overcrowded, particularly during rush hours.  This increases the risk of pick-pocketing.  You can make use of taxis, but should only use licensed facilities.