Entering Mexico from Arizona
Arizona is Mexico's neighbor on the northern side and sees many visitors crossing from their border and into Mexico. Many just put their auto insurance in place and cross over to sample the beauty that tourists travel to see from as far as Canada. Of course, they have to carry their full identification with them if they plan to go beyond the Free Trade Zone, because Mexican law does not favor close neighbors against visitors from far.
What are the attractions visitors crossing from Arizona want to see?
Many US visitors feel that the hustle of getting fresh auto insurance and a temporary car import permit is worth the bother as long as they experience what they want. They, like every other driver in Mexico, must be insured for third party liability by an insurance company registered in Mexico. There are many attractions that draw visitors to Mexico, including its rich heritage areas; cultural festivals; and places depicting pre-Colombian history, which include the Mayan and Aztec ruins.
There are also different interesting features, like deserts, rainforests and beaches. In fact, the country is rated 4th globally, as far as richness of biodiversity is concerned.
Many tourists rent cars because they have a wide range of places to visit, and having a car in your control makes it all the more convenient. They want to visit archaeological sites and other famous areas; and they also want to visit other areas to sample local music and cuisines. Many leave Mexico with a great cultural experience.
Taking a drive to Sonora by personal or rental car
If you are travelling to Sonora, you do not need a car import permit. And it is the same thing if you are planning to reach the cities of Puerto Penasco or Rocky Point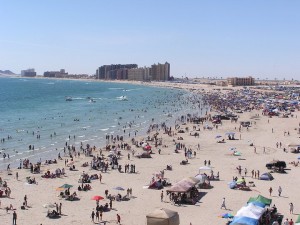 ; Guaymas or San Carlos; Hermosillo; Kino Bay; Magdalena; and even Santa Ana. However, you will need to prove that you are a US citizen and that you are qualified to drive. So you should make a point of carrying your passport and driver's license with you. You also need to prove that the car you are driving is yours or that you are legally crossing the border with it.
Securing the mandatory auto insurance
Mexican vehicle insurance is something you can buy in Sonora. But you need to know that you are in a position to get a better deal from the insurance provider if you are not in an emergency. Once you are already at the border or even within Sonora, you do not have much choice but to buy the policy at the price you are given, no matter how high. The insurance agents know that you are not going to risk doing time in a Mexican jail as that is what you risk when you travel without the insurance. The best thing is to deal with the insurance issue some days before your travel. You may click here to purchase your Mexican insurance policy online.
What do you do if you are caught up in a car accident?
In case of an accident in Mexico, it is very easy to panic and feel stranded – don't. As long your Mexican car insurance is in place, you can continue with your mission in the country as planned. Just take the following steps:
Let the authorities know that an accident has occurred. You can do this by calling the official number – 01-800-440-3690 – which is, luckily, toll free.
If you are a visitor or a Mexican living abroad, you, obviously, have a temporary car import permit. You need to write to the customs office that is nearest the place of accident, and report the accident. You are required to submit that letter within 5 days of the accident.
Also submit a copy of the accident report, or its notification, to that customs office.
What do you do in case your vehicle is stolen?
In case you are still within Sonora, just notify the local police through the telephone number, 066; otherwise, notify any other Mexican police. With Mexico consuming 30% of Arizona's export merchandise, Mexico would like trade relations to strengthen. For that, they endeavor to make visitors from Arizona feel comfortable in the country.