Tips For An All-Inclusive Mexican Vacation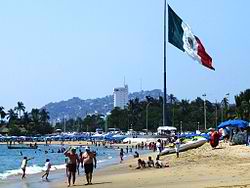 An all-inclusive Mexican vacation should allow you to relax and not have to worry about anything.  However, some of these types of trips can throw some nasty surprises your way.  To ensure that you enjoy your holiday, you should do research before you release your funds.
Destination
Mexico offers visitors a massive range of destinations that are suitable for all ages and all interests.  You should do research on the available all-inclusive vacation deals and determine if it suits your wants and needs.  You can do this online or you can visit a travel agent and obtain brochures.
Type of Vacation
Resorts which offer all-inclusive deals often cater for a specific type of person.  If you do not have children and are traveling as a couple, you may not want to choose a resort where there are tens of children.  If you are traveling as a family, you may need resorts that offer a range of activities for the younger members of your family.  You should also consider the resort size as you may prefer a more intimate, cozy setting, rather than a resort with thousands of rooms and thousands of people.
If you want to see more of the country, you may want to consider a resort that offers you a range of attractions within easy driving distance.
Included Costs
All-inclusive vacations normally include accommodation, food and drinks.  You have to confirm which other activities, outings and services are included in the cost.  You should confirm the hidden charges that may be added, such as 'resort fees'.  Some resorts include tips in the price, but most people tip anyway.
Season
The weather in Mexico varies slightly throughout the year and some months are hotter than others, and some may have more rain than others.  You should also consider that the country has a hurricane season from June to November.  This does not mean that you should avoid going on vacation during these times, but you should check if the hotel has hurricane guarantees and you should consider purchasing travel insurance.
Insurance
Whilst you are searching for travel insurance, you should check for suitable Mexican auto insurance policies as well.  This type of insurance has become mandatory if you intend traveling through Mexico by car.  You will also require your vehicle registration papers which should be kept with you at all times.  If you are stopped by traffic authorities, you may have to produce your registration documents, vehicle permit and Mexican auto insurance policy.
It is vital that you obtain suitable Mexican vehicle insurance and adequate liability for the area you intend visiting.  The best way to ensure you obtain the most suitable policy is to do a comparison of what is available from reputable online providers. You can purchase your Mexican insurance from MexinsuranceStore.com.
Prior to making a final decision on the all-inclusive package you wish to choose, you should read a range of reviews on the resort you have chosen.  There are plenty of review sites online.  Not everyone will like the place that you like, but if most of the reviews are good, you can safely assume that the resort offers good service.