Great Tourist Areas To Visit In Mexico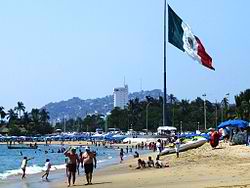 Mexico offers something for everyone.  Regardless of what you want to do in the country, you can find a beautiful spot somewhere.  You can choose to go camping, or visit one of the beautiful resorts, or you can simply jump in your car and travel through the country for an extended holiday.
If you intend driving while you are in Mexico, you should bear in mind that you need to obtain Mexican vehicle insurance before you enter the country.  Your Canadian or US vehicle insurance will not be valid in Mexico.  Obtaining Mexican car insurance is not a cumbersome process.  All that is required is for you to go on the Internet and do a search.  You can purchase your Mexican auto insurance from this MexInsuranceStore.com URL.
You will have the choice of liability only or comprehensive insurance.  If you intend doing a lot of driving for an extended period of time, comprehensive insurance should be your choice.  It will provide you with coverage for personal damage and losses, as well as that of third parties.
Ixtapa
Ixtapa is situated 160 miles north-west of Acapulco, on the Pacific coast.  It is a beach resort region with golf courses, high-rise hotels and discos that are open all night long.  In stark contrast, Zihuatanejo, its sister city is situated four miles away and is a fishing village with cobble-stoned streets and restaurants that are inexpensive.
Los Cabos
Los Cabos is situated on the very tip of the Baja California peninsula.  It is composed of two cities, San Jose del Cabo and Cabo San Lucas which offer beautiful natural attractions.
Mazatlán
This is an area known for its beaches, and is situated on the Pacific coast.  It is in Sinaloa state, which is around 270 miles north of Puerto Vallarta.  This is an extremely popular port for cruises which go along the Mexican Riviera.  Its active nightlife, golden beaches, water sport and wildlife make it an interesting and busy area to visit.  Some of the carnivals held in the city on an annual basis are the biggest attraction in the country.
Merida
This is a busy cosmopolitan city on the Yucatan Peninsula.  It is a fascinating area to visit as it offers tourists beautiful colonial architecture and a vibrant cultural scene.  It also hosts some of the best Mayan archaeological sites in the country.
Morelia
During the colonial days, Morelia was known as Valladolid.  It was founded by the first viceroy of New Spain, Antonio de Mendoza and is known as one of the first Spanish cities in the country.  His encouragement of Spanish nobles to settle in the area is responsible for the grand, elegant buildings.  The town had a strategic role during the Independence War as it was the birthplace of the revolutionary who became a hero, Jose Morelos de Pavon.  The city was the first area to be taken over by the independents and from there Morelos led the army to Mexico City.  The name of the town was changed after independence to honor Morelos.  The city continues to have a distinct Spanish feel to it.  The buildings have been well-preserved and the layout of the town is in typical Spanish style.