Travel To Mexico During The Week To Avoid Traffic
Mid-week is the perfect time to plan a shopping trip in Mexico.  Over the weekend, you would normally have to endure the tourist traffic in and out of the country.  This makes Mondays to Wednesdays the best time to cross the border as you will not have to face heavy traffic.  For quick entry times, you should plan a mid-morning trip and you can head back in the early afternoon to enter the US quickly.
Even though you are only going into Mexico for a few hours, you still need to obtain Mexican auto insurance.  A minor accident can turn into a living nightmare if you are not covered by Mexican auto insurance.  You may be held in prison until such time as you can prove that the accident was not your fault or you can prove that you have the financial ability to settle the damages.
Shopping
Many people opt for a quick trip into Mexico to do shopping for those goods you cannot easily locate on the US section of the border.  There are Mexican supermarkets in the US and Canada, but you will be offered a greater variety in the chain and specialty stores on the other side of the border.
The reasons for your needs may differ.  You may need a special product for a special occasion, or you may want to try some Mexican goods you have heard about, but not tried before.
Mexico has a range of products and clothing that you cannot find in the US or Canada.  If you need something different for a special occasion, you may want to pop over the border and get it.  This is the best time of week to haggle with the vendors and obtain a better price.  Since there are fewer people during the week, the vendors are more desperate to sell their goods.
Tourist Attractions
If you have wanted to visit a tourist attraction, but the crowds have always stopped you from going, a weekday is the best time for your visit.  Most people visit tourist sites over the weekend which is why the roads and the sites are always so busy.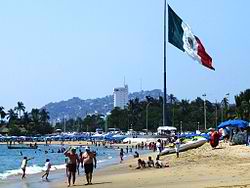 You will find that the vendors in the exit lanes when you re-enter the US focus on different goods.  During the week, you may be able to find a local newspaper, breakfast foods and coffee to start your day.
One thing you must be aware of is that there is the chance of getting involved in an accident, regardless of the number of cars on the road.  You do not want to pop across the border and then have to spend several days in Mexico because of the legal issues you may be faced with if you do not have Mexican auto insurance.
Your trip may only be for a few short hours, however you still need to buy Mexican car insurance.  It is not too difficult to obtain it online as you can purchase your Mexican insurance policy from this link.  If you intend doing this type of trip on a regular basis, you may want to consider obtaining a policy which is valid for a longer period than a single day.