Two Most Important Reasons Why Every Mexican Visitor Should Get Mexican Insurance
When you are planning to go on a vacation, you want to enjoy yourself. Nobody wants to be bogged down with court summons and visits when all that one wanted was time to relax away from home. Unfortunately, some people give the wrong impression about Mexico to potential visitors. There are people who will even give you the impression that you do not need a vehicle insurance policy; that instead you can bribe your way around the country.
The question you need to ask yourself is: Even if bribery were to be accepted, is it really worth bribing policemen at every check point for the duration of your stay? The truth is, auto insurance is mandatory in Mexico and it has to be Mexican. You may click here to purchase your Mexican auto insurance policy if you still haven't got one. You can easily find yourself in a Mexican jail for failing to have that very important policy, particularly if you hurt anyone on Mexican soil.
Why you need to be extra serious about Mexican insurance
Even in areas that the country has been lax, it is now ensuring that laws pertaining to insurance are stringent. In fact, some states are going the US way. In 2012, for instance, some states amended their laws so that if you are found without necessary insurance, you are slapped with a fine and your vehicle is confiscated. Such states include Baja and Jalisco.
 In Mexico, they do not implement the law the way it happens in the US. In the US, when you are caught up in an accident with another driver, you take each others' insurance details and proceed on your journey. Not so in Mexico. Whether you are a foreigner or not, if you are involved in a car accident, you are required to report to court and wait for the judge to hear your case and determine it. In case you are fined, you cannot be released till you have paid the amount fined. As would be expected, facing a magistrate or a judge in foreign land can be intimidating, irrespective of whether you can understand Spanish or not.
But the situation is less gloomy when you have the necessary insurance because:
You can produce your insurance documents and confirm that you are able to pay up the fine and any damages caused the other party.
 Your insurance company will send their legal personnel to represent you the soonest and keep you from waiting in jail as your bond is paid.
How do you know you are dealing with a legitimate company?
While it is important to understand you need to buy a Mexican insurance policy, you cannot trust just anyone to purport to provide that. Some American insurance agents might mislead you if you are not well versed with the requirements. For a company to qualify to sell you a Mexican policy, it needs to have its registration at the Mexican Department of Insurance. Only then can it even have agents in the US or elsewhere to tap business on its behalf. So, you need to ask the right questions to establish the agent's position.
To distinguish a policy that is solely US from one that covers Mexico, clearly read its stipulations. When only US liabilities are covered, you will read information to the effect that the policy covers the US, its territories or what it considers its possessions; Puerto Rico; and also Canada. It will then proceed to warn you that motor accidents in Mexico are subject to Mexican laws.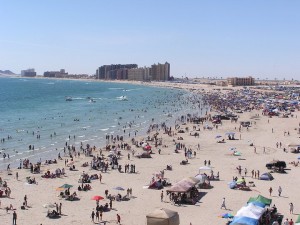 In addition, the document will clearly guide you by informing you that you should acquire a Mexican auto insurance policy specifically from a Mexican insurance company. In short, if an agent is trying to give you a document that does not state explicitly that the company is going to cover you in Mexico unconditionally, you had better leave it and seek out the right insurers.
If you have valid Mexican auto insurance, it does not matter which time of the year you are visiting. You are bound to enjoy driving around, enjoying the weather and Mexico's fascinating tourist attractions.