Visit Mexico During the Easter Week
Some of the features that make Mexico City stand out distinctly are its heavy traffic and its extraordinarily massive number of people. The city streets are ever busy. Getting around the city, particularly during the rush hours, can be quite a challenging task. Incidentally, these crazy hours come in three sessions: 6am – 10am; 1pm – 3pm; and 7pm – 9pm.
But guess what? The city streets are all clear over Easter! People who usually crowd Mexico City go out in all directions to enjoy their Easter holiday.
How do Mexicans observe Easter?
In fact, Easter is more pronounced in Mexico than even Christmas. People in Mexico travel to join family and close friends over Easter the way people in the US do on Thanksgiving. The environment is all festive with schools closing for two weeks and employees taking some time off from work. While many people can be seen taking it easy on the beaches, others travel out of the country to enjoy their Easter holiday.
One thing you should expect in Mexico during Easter is for prices of items to go up. After all, many people throng popular holiday spots ready to spend liberally. Brace yourself too for busy airports, busy bus stations and busy interstate highways. Also most hotels worth talking about are fully booked during this festive period.
What is significant about Easter Travel in Mexico?
The hectic travel period during which people leave Mexico City for their holiday destinations starts on the Friday that falls on the onset of the holiday. This weekend sees many people travel along the roads on the south of Cuernavaca and Acapulco; on the south-east leading to Puebla and Veracruz; on the west leading to Guadalajara and Morelia; and even north, getting to Queretaro and the area of colonial heartland. Flight travel is not any lighter either. The airports in Mexico are actually busiest over the Easter holidays. In all areas of travel generally, everyone just has to be patient.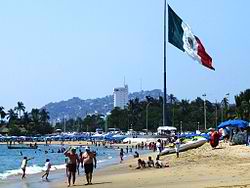 There is still significant travel activity the following week, as some people wait to wind up in the office early in the week and then travel on Wednesday. These are people who usually have their eyes specifically on the public holidays. They are able to have their long Easter weekend beginning Thursday, enjoying Good Friday and Easter Monday as well.
What a relief to be in Mexico City after that!
Which changes transform Mexico City in Easter?
The trip that usually takes two or more hours now takes only minutes. Securing a car park is no longer a big deal. Bars and restaurants have a modest number of patrons and there is room to relax. One can now enjoy the serenity of museums and parks as the environment is reasonably quiet. Places like the colonial enclaves of San Angel and Coyoacan become like small villages as opposed to the busy zones they usually are. Travelling in the metro, buses and the micro buses during this period is a dignified affair. There is no shoving and people are not packed like sardines. Even fares and taxi hire charges are lower as there are not as many people travelling within the city. In addition, travel time is much shorter since there are no traffic jams. Those still in the city are able to enjoy fresh air, particularly in the mornings. They are also able to enjoy beautiful scenery they ordinarily do not see like the clear view of the great volcanoes of Popocatepetl and Iztaccihuatl. These beautiful features have always flanked the valley but can only be seen now, as one faces south-east, because there is no smog to hinder them at this time.
Mexico City, as the world's largest capital, happens to be transformed during the Easter period. Its natural beauty and near mystic aura become pronounced during this time as the daily noise and commotion ebbs away. The heavy impact of twenty-two million residents is lifted and the city stands out as a serene natural attraction.
In short, Mexico City in Easter is for people who like to enjoy the amenities and ambience a big city provides, and all that in relative quiet. It is not for people who admire the big cities for their hectic and fast life. So, whatever category of people you belong to, mark your diary accordingly.
In fact, if you are in the first lot, people who like the quiet atmosphere, you have the opportunity to experience Mexico's attractions right from Easter. You begin with the city where all chaos have disappeared over the Easter holiday, and then as people come back to revive the noise and traffic jams, you head off to the beautiful beaches and other resorts away from the city, now all quiet and serene.
When do Mexicans wind up their Easter celebrations?
Soon after the Easter Week, people begin going back to the city to resume work and re-open their businesses. But the real impact is felt the following Monday, the time that Easter celebration is really over. This is when children begin to go back to school and Mexico City gets back to its usual endless activities and ceaseless travels and overwhelming traffic jams, and everything chaotic. So, if that Monday happens to be your day of travel, either by design or because you simply cannot avoid it, summon all the patience you can muster. It is bound to be a long day for all travelers and you need to set off early.
Get Your Mexican Car Insurance
If you have been visiting from Canada or the US, I would hope you have bought yourself a Mexican car insurance premium because it is in such chaos that mess happens and your insurers come in handy. Remember your home insurance policy is not valid in Mexico. You can buy your Mexican auto insurance at the border or in the Internet but buying it at the border is more expensive. You can start saving on your Mexican auto insurance by purchasing your Mexican insurance from this  URL.