Should You Volunteer In Mexico?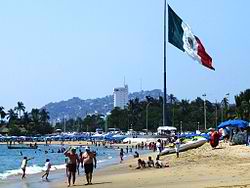 Choosing to volunteer in a foreign country can be a very satisfying experience.  It opens up your world to other cultures, while helping disadvantaged communities.
If you would like to see Mexico, there is a range of volunteering opportunities you can choose from.  The volunteer opportunities range from conservation projects to teaching English.
Teaching English
Organizations such as GeoVisions are always on the lookout for volunteers to teach English in Mexico.  The orientation program takes place in Mexico City and from there you will travel to various cities for your placement.  The program is normally for a two-month period or you can opt to stay longer.  Some of the organizations pay for your travel costs to the country, while others require that you get to Mexico City at your own cost.  You will normally live with a Mexican family.   
In the event that you need to arrange your own transport to Mexico, you should ensure that you have all the appropriate documents to gain entry into the country.  You will need to obtain a permit for your vehicle.  Your current car insurance will not be valid in Mexico, which means you need to obtain Mexican auto insurance. You can purchase your Mexican insurance policy from this link.
These are policies that cover you in case of an accident while travelling in Mexico.  You can opt for a liability only policy, but you should remain aware that this will only offer coverage for third party damage and injury, and not for any injuries or damage you suffer.  If you want more extensive coverage, you should opt for a full or comprehensive policy.
Some of the policies on offer allow you to add on additional features, such as roadside assistance, legal insurance and bail-bond assistance.  You should consider these options, depending on the area you intend volunteering.
Marine Conservation
This volunteer expedition allows you to build up skills, such as learning how to dive.  Aside from learning how to cope with marine life, you will help in the monitoring and protection of the second largest coral reef worldwide.  The duration of this volunteer position is around five weeks.  The costs of the program should be discussed with the organization, such as GVI, and will normally include accommodation, training costs and food.
You will undertake your volunteer program in the Yucatan Peninsula.  Most volunteers find that during this period, the interaction with locals allows them to learn a great deal of Spanish.  This is always a good asset for the future.
Turtle Conservation
The sea turtle conversation project is particularly suited to students and is schedule to take into account major university breaks.  It lasts for about one week during spring at Campemento Tecoman, on the Pacific Coast of Colima.  The accommodation normally consists of camping on the beach.  Volunteers search the sand for turtle eggs, which they remove and place into a hatchery.  This is a wonderfully unforgettable experience.
Regardless of the reason for your visit to Mexico, you should ensure that your paperwork is in order.  If you intend driving while in the country, you should make sure that you obtain Mexican auto insurance prior to leaving your home country.