Drinking And Driving In Mexico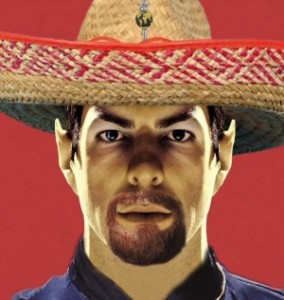 Many visitors to Mexico want to enjoy the delicious, affordable alcoholic beverages that are on offer throughout the country.  The legal drinking age in Mexico is 18, but enforcement is not as strict as it is in America.  Many of the establishments that serve alcohol have now taken to requesting proof age, but if you appear to be over the age of 18, you will probably not be asked for your ID.
The stores, bars and restaurants in Mexico are able to sell alcohol 24 hours per day.  This means that you will have access to alcohol at any time of the day or night.  It is illegal to consume alcohol on the street, but if you are walking down the road, minding your own business with a beer in one hand, you will probably not be stopped.  It is only if you become drunk and out of control that you will have to suffer the consequences of your actions.
Everyone is aware that drinking and driving is not only a stupid act, but also extremely dangerous.  This is the reason why this act is viewed as an extremely serious crime in Mexico.  If the authorities catch you driving under the influence of alcohol, your Mexican car insurance policy will be deemed invalid.  Not only does that put you in a fix financially, but the chances are that you will be put in jail for the offense.
It is not expensive to make use of taxis in Mexico, so if you have been drinking, it would be safer to use a cab to drive you home.  Mexican authorities have increased their vigilance when it comes to drunk drivers.  If you are caught driving while you are drunk, you could face time in prison.  If you are a foreigner, even if you have Mexican auto insurance, you will not be afforded any leniency when it comes to drinking and driving offenses.  If you are caught driving under the influence of alcohol, you could face many weeks in a Mexican jail.
Most people know their own alcohol tolerance level and should manage the quantities of alcohol they consume.  You should bear in mind that the altitude levels in Mexico change considerably from one region to the next.  If you currently reside in a low-altitude area in your country of residence, you may be at an advantage in that you can consume vast amounts of alcohol without feeling the effects.  Alcohol has a much stronger effect on a person at higher altitudes.
You should take note of the altitude that you are visiting and try to limit your consumption of alcohol.  Better still, if you intend driving, it is best that you abstain from alcohol.  If you are with a group of friends, you can always alternate the driving task.  This will ensure that at least one person remains sober and drives the tipsy ones home safely.
You should also ensure that you have adequate Mexican car insurance to cover you and a third party in the event that you are involved in an accident.  If you do not have a Mexican insurance policy yet, just click here to get one. It is not only drunk people who are involved in accidents, but they are at greater risk of causing an accident.