Get Mexican Auto Insurance For Your Cancun Day Trips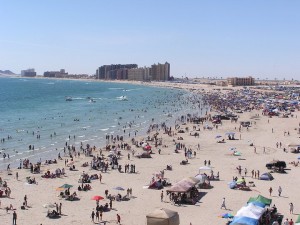 Cancun offers the visitor plush hotels, stunning beaches and an exciting nightlife, but it also offers those interested in the Mayan culture a look inside the ancient people's lifestyle.  There are several interesting and beautiful day trips available to visitors in the area.
Tulum
This area was previously a ceremonial center for the Mayans, as well as a very busy trading port.  The ruins that are now available for viewing are set in a spectacular environment on a cliff which overlooks the beautiful turquoise waters of the Caribbean Sea.  The local archaeological site is not very large and consists of about 60 buildings.  It is possible to tour the area in around two hours.  The beach in the area can be classified as one of the most beautiful in the country.  The area is located about 72 miles south of Cancun.  To take a full day trip, you can combine a Tulum visit with a Xel-Ha visit.
Xel-Ha
This is a water theme park.  The freshwater lagoons are interconnected with streams of salt water.  This combination produces a wonderful ecosystem where you can see tropical fish.  It is an ideal place for beginners and children to practice snorkeling.  Other activities you can participate in include swimming with the dolphins, inner tube floating along the river, among other activities.  If you are not into water activities, you can take a wonderful walking trip through the jungle which surrounds the area.
Chichen Itza
This Prehispanic city is named one of the New World Wonders.  It was the military, political and religious center of the peninsula for many centuries.  You can climb the observatory to gain a view of the area surrounding it.  It is possible for you to hire a guide to accompany you on a trip through this interesting archaeological site.  This area is about 125 miles from Cancun which is a drive of around two to three hours.
Sian Ka'an Ecological Reserve
This is one of the biggest protected areas within Mexico.  It is an area of about 1.3 million acres of natural beauty.  You can find Mayan ruins which have not been excavated, mangroves, inlets, freshwater canals and lagoons.
As a visitor to this unique area, you will learn about the diverse wildlife that is present and take part in specific conservation projects.  There are ecological tours of the reserve that you can participate in.  Visitors are also offered the opportunity to go fly-fishing and kayaking.
To enjoy all these day trips and others that are available, you should ensure that you obtain Mexican auto insurance before going on your trip to Cancun.  It is quite easy to obtain details about the available policies online. You may click here to purchase your Mexican insurance policy. You should make sure that you obtain the best policy for your needs.  It is recommended that you buy a comprehensive policy because it offers you coverage in all situations.  Not only will the third party's damages and injuries be covered, but your damages and injuries will also be covered.  You should also consider including some of the extras that are available, such as legal and roadside assistance.