Mexican Auto Insurance Coverage For Canadians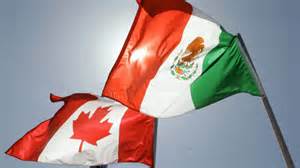 The available options for Mexican car insurance are so vast that it is often easier to choose the first choice you find.  You should take the time to do thorough research into the available options for this type of insurance.  It will not only save you money, but a potential scrape with the authorities in Mexico.
The difference you experience between cities in Canada and cities in Mexico will hold your interest throughout your journey, but you also need to consider the difference in Mexican auto insurance before you leave home.  The conditions in the two countries may differ, but the driving risks are exactly the same.  In fact, the risks may be higher in Mexico because of your lack of knowledge and familiarity with the road system and the road laws.
Different Types of Insurance
There are many drivers who think that buying Mexican vehicle insurance is a mere formality.  Some of them ignore the booths that are at the border completely and many visitors to Mexico opt for the minimum level of coverage they can find.  Although this low coverage may be a cheaper option, it is also the one most fraught with problems.  You should do advance research on Mexican car insurance, bearing in mind the type of coverage and the amount you feel comfortable with.  You may only be going to Mexico for a week or two, but you should consider the implications of being involved in a serious vehicle accident while you are there.
The purchase of liability only insurance may be a cheaper option and satisfies the legal obligations you have in Mexico.  However, insufficient coverage could leave you with huge financial burdens if you are involved in an accident, particularly if it is fatal.
The different Mexican states have different death benefit amounts when one of their citizens is killed during a car accident.  This makes it imperative that you check on the death benefit amounts in the state you intend visiting.  If you intend traveling through several states, you should consider choosing the highest limit you can find.
Liability only insurance will not cover any injuries or losses to property you experience.  The only exception to this rule is if you are involved in an accident with an uninsured driver.  In this case your Mexican auto insurance policy may offer you coverage for your personal medical costs and those of the passengers in your vehicle.
If you opt for full coverage, you will have coverage to have your vehicle repaired in a location of your choice.  You will have the option to have the repairs done in Mexico, Canada or the US.  You should consider adding theft cover to your policy as this may be useful if you visit certain regions in the country.  It is recommended that you include coverage for vandalism and partial theft if you intend visiting an area where these are common problems.
Since it is a legal obligation to have Mexican car insurance if you visit Mexico, you should consider buying the most beneficial option for your personal needs.The easiest way is to buy your car insurance online via this URL.  Treat it in the same manner as you would your normal home country auto insurance.