Mexican Car Insurance Tops the Travel Checklist For Travel From California To Mexico
If your travel plans include driving from California or Arizona to Mexico, you should ensure that you are well prepared for your journey.  Most locals know exactly how to get over the border efficiently and safely, but there are so many tourists who get stuck at the border.  This is because they have to purchase Mexican car insurance and vehicle permits before they are allowed to cross the border legally.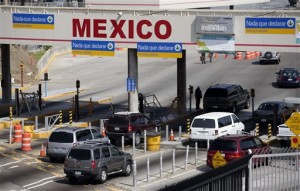 There are several points you have to consider to make your trip to Mexico a happy and relaxing one.
Mexican Auto Insurance
The Mexican government does not recognize American auto insurance.  This makes it vital for motorists traveling from America to Mexico to buy Mexican vehicle insurance.  It is possible for you to buy a comprehensive policy as you would in the U.S., or you can opt for one that offers you minimum liability.
Depending on the length of your trip, you may want to consider adding additional benefits, rather than choosing a basic policy.  The longer you travel on the road, the higher your chances are of being involved in an accident.
The policies on offer can be short or long-term.  This is dependent on the length of the trip you are going on. If you still do not have Mexican auto insurance you  can get it online by clicking here.
Vehicle Permit
If your intention is to drive onto the mainland, you will be required to obtain a vehicle permit.  This is not necessary if you are simply going into Senora or Baja.
Ownership Proof
If you intend towing an ATV or motorcycle behind your vehicle, you need to show ownership documents before you will be allowed to take it across the border.  It is a good idea to carry your vehicle ownership and state registration documents with you.  If you are going to using a rented vehicle, you need to obtain permission from the rental company to take the vehicle across the border.
Passport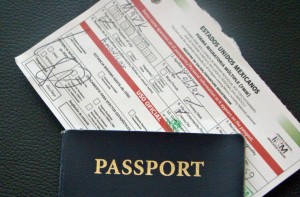 The laws were changed during 2007 and you now require a passport to be allowed back into the U.S. when you return from Mexico.  This applies to Canada as well.
Cell Phone
A cell phone is a necessity in cases of an emergency.  Call charges to international numbers are often quite expensive, so it may suit you better to obtain a SIM card for the trip or buy a prepaid phone for your purposes.  This will prevent you from spending a lot of money of calls back home and getting a huge shock when you receive your bill.
Emergency Kits
You should carry an emergency kit with you, regardless of where you intend traveling.  It is more important to carry this kit with you if you have made plans to travel an unfamiliar route or in the desert.  The kit you take with you should include a charger for your cell phone, blankets, non-perishable foods, water, a flashlight and a full first aid kit.
If you are going to travel to Mexico by road, you should ensure that you are fully prepared for any emergency.  Although your emergency kit is an important part of your journey, so is your Mexican car insurance as you could end up in jail if you do not have suitable coverage and you are involved in an accident.