Mexico Is A Blend Of Traditions And Cultures
Mexico as we know it today is the culmination of a blend of indigenous traditions that have remained strong and a range of blended cultures.  Cultural traditions are still very strong in particular areas and Chiapas is one of these areas.  It can be seen in the church located in San Juan Chamula, where indigenous traditions and Catholicism have been combined and become entwined.
Indigenous People of Mexico
Chiapas State is one of the areas in Mexico where the largest indigenous population can be found.  Around 60000 people live in San Juan Chamula, a village which is placed at an elevation of 2260 meters in the mountains close to San Cristobal de las Casas.  The residents of this village are classified as Tzotzil Maya.  Their primary language is Mayan, although many are also fluent in Spanish, albeit spoken with a marked accent.  The residents in this village dress traditionally, with males wearing white or black tunics made of wool, with a belt around their waist.  These outfits are called chujes.  The females wear embroidered blouses, manufactured from satin or cotton.  Added to this is a long black linen skirt, as well as a shawl.
The church in the village is considered to be Catholic, but is not a traditional one.  There are no pews within the church and the floor is covered with tiles and pine needles, which gives it a feeling of nature.  Statues are placed along the interior walls of the church.  Those who serve in the church are called healers as it is considered offensive for them to be called shamans.
Religious Ceremonies
People approach the healers for aid with health and personal problems.  They are required to take candles, herbs and one or more chickens as sacrifice during the ceremony. During the ceremonies, people kneel on the floor and chant, with lit candles around them.  The chickens that are offered as sacrifice may be cooked and eaten later, or some of them are buried outside a sick person's residence.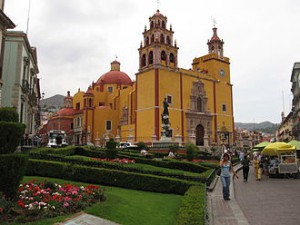 As in Christianity, the number three holds importance.  The village is split into three neighborhoods called San Sebastian, San Pedro and San Juan.  Festivals are held to honor each of these saints.  There are three arches atop the church and the three neighborhoods are represented by the bells inside the arches.
The village does not observe Daylight Savings and time is maintained in the traditional way.  The church yard contains a sun dial, but it is not very effective due to the cloudiness and fogginess in the area.  To overcome this, the church bells are rung three times a day, at five in the morning, at noon and at six in the evening.
There are tours to this village and you will be charged a fee for entry to the church.  It is not allowed to take photographs within the church.
Do Not Forget Your Mexican Auto Insurance
If you intend visiting this ancient church with its blend of modern day Christianity and old cultural traditions, you should take care when traveling on the roads in Mexico.  To ensure that you are fully covered for any eventuality, you should purchase Mexican auto insurance prior to leaving home.  Mexican vehicle insurance can be bought online or at the border, but the online method is your best option as it offers more choices and is cheaper. You can click here to purchase your Mexican auto insurance.