Motorcyle Tours To Mexico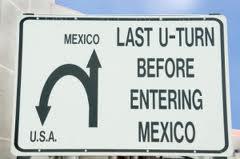 One of the simplest ways to travel through Mexico is by motorcycle.  The most stunning areas are often not accessible with a motor vehicle, but on a motorcycle you can traverse almost any terrain and take all those little paths to the areas where there are fewer tourists.  By opting to travel via motorcycle, you may experience an unforgettable trip.
To ensure that you experience the beauty of Mexico on your motorcycle, you should make sure you have all the necessary paperwork in place before you set off.  If you intend traveling with your own motorcycle, you need to have proof that you are the owner of the bike.  It is also vital that you obtain Mexican motorcycle insurance.
This will not only offer you peace of mind whilst traveling through Mexico.  Even if you have adequate motorcycle coverage in America or Canada, you need to obtain a Mexican insurance policy to claim if you are involved in an accident.  It may be less costly to obtain an insurance policy with basic liability coverage, but you should consider obtaining a comprehensive policy.  It offers you more and you will know that, if the accident is your fault, you will be covered completely.  The coverage applies not only to your motorcycle, but damage to any third party property as well.  You will also have coverage if your bike is stolen or damaged outside of a road accident.
If you are going to rent a motorcycle upon your arrival in Mexico, you are not exempt from obtaining a Mexican insurance policy.  You need to show proof of Mexican insurance for all vehicles inside Mexico, including rental motor vehicles and motorcycles.  You may feel that you will not lose anything if the bike is damaged, however, you will still be held liable for the replacement or repair of the bike.  So, if you do not have adequate insurance coverage, you may find yourself in a legal and financial jam.  You may also face jail time whilst in a foreign country.
As soon as you start planning your trip, it is recommended that you also do some inquiries into Mexican motorcycle insurance.  There are several options available.  The level of coverage you opt for depends on many factors, such as budget, but it is normally best to obtain the widest coverage possible.  This will ensure that you do not face any legal or jail time issues if you are involved in a motorcycle accident.
You should start your search for Mexican insurance by doing an online comparison.  You can obtain instant quotes online, such as the one offered here,  and play around with the range of options available.  It is possible for you to obtain Mexican insurance at the border, but this is not recommended.  The costs of insurance at the border are normally way higher than obtaining it online.  This is simply because you have no choice but to purchase from those providers, so they can charge you any price.There are several online Mexican insurance providers which will allow you to find the options that best suits your pocket and needs.