The Best Time To Visit Mexico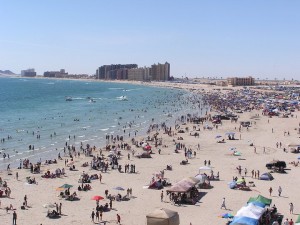 You should choose the best time of year to take a trip to Mexico.  The change in weather affects your holiday.  You should also do some research on the best time of year when you will experience the best weather, best deals, wildlife experiences and the many festivals that take place all year round.

Weather
The weather is an important factor as it can make or break your holiday.  Mexico is a big country that experience different climatic conditions in the different areas.  At sea-level, the weather is fairly constant and is either warm or hot, throughout the year.  This makes it ideal to visit at any time of year.  At higher altitudes, the weather can become cold.  It is often quite cold during the winter months, particularly from November through to January.
If you want to visit one of the spectacular beach areas in Mexico, the most pleasant time to visit would be between October and May.  The period between June and September can become humid and extremely hot.  You should bear in mind that Mexico has a hurricane season that lasts from June through to November.  You do not want to be traveling on the roads during this period.  If you intend to, you should make sure that you obtain a suitable Mexican car insurance policy so that you will have coverage in the event of an accident.

Peak and Off-Peak Seasons
When you plan your trip to Mexico, you should take note of the high seasons and low seasons.  During the school holidays, summer months and religious holidays, Mexican families tend to travel more.  This results in crowded hotels and busy roads.  To avoid traveling during these times, you should make sure of the dates when it is high season in Mexico.

Festivals
There are several festivals that take place in Mexico during the year.  Many people like to travel to Mexico for special celebrations, such as the Radish festival and Day of the Dead.  Natural events, such as the annual butterfly migration and the release of the sea turtles are also big events that you may want to witness.
To be a part of these special events, it is vital that you plan your trip well in advance.
There are many Mexican destinations that do not attract the crowds.  This is not because it is not beautiful or serene, but simply because it has not gained the attention of many tourists or are placed slightly off the beaten track.
If you are looking for a special vacation, you should plan your trip according to the dates related to the particular event you want to attend.  It is advisable that if you intend traveling on the roads, particularly during the busy periods and dangerous seasons, you should consider obtaining the best Mexican auto insurance policy you can afford such as the one in this URL.  Mexican vehicle insurance is required by law, so you should ensure that you obtain it well before you finally leave for your exciting trip to Mexico.