Tips On Planning A Trip To Mexico
Have you made the decision to take a trip to Mexico?  If so, there are a few things you should consider before you finalize your plans, such as the paperwork that is needed, transportation, health issues and safety.
Your first step is to decide on the time of year you want to visit the country.  This may be dependent on your personal schedule, but you have to consider the weather, events and if you intend going during high or low season.
These factors should not be considered as tasks, as planning a trip is often the fun part.  Your choices are endless where Mexico is concerned.  You can take a trip to one or a few of the stunning beaches it has to offer, you could visit the country's archaeological or colonial sites, or you can simply go to have a good time at one of its numerous festivals.
Mexican Auto Insurance and Other Documents
This is an important aspect of planning any trip to Mexico.  It is vital that you have the correct documents to travel through the country.  If you do not yet have a passport, you should be aware that it could take a few months for you to obtain one.  If you require a visa to travel to Mexico, you need to allow time to obtain this.
You will need a passport to enter Mexico, as well as to return to the US.  It is also possible to make use of a passport card if you intend traveling to Mexico by sea or land.  This applies to children as well.
You will also require a tourist card if you intend traveling beyond the border zone.  This is an area of about 20 kilometers from the US border.  A tourist card can be obtained at the border or from the Mexican consulate prior to departure.
If you intend traveling on the roads in Mexico, you need to obtain Mexican auto insurance prior to entering the country.  This can be purchased online or at the border post.  You will not only save time by purchasing Mexican auto insurance online, you will also save money.  Buying Mexican vehicle insurance at the border is always more costly than online, and you will not be offered as many options.  Once you have done a thorough comparison of the available policies, you can choose the best policy, pay for it and print it within minutes. You can purchase your Mexican auto insurance from this link.
It is recommended that you consider some of the additional options, such as medical assistance and legal assistance, as this may be worth your while in the event that you are involved in an accident.  You should print a copy of the policy in English and in Spanish as you may be stopped by a traffic officer who does not understand English.
Health
It is vital that you remain healthy whilst traveling through Mexico.  The one problem most tourists face is what is called Montezuma's Revenge, which is a term for traveler's diarrhea.  To avoid this dreaded illness, you should heed a few tips:
Do not drink tap water. It is best to purchase purified water for drinking and to brush your teeth
Eat cooked vegetables rather than raw salads
Ensure that you eat in food establishments that cater specifically for tourists
Ensure that the meat you consume is well-cooked
Wash your hands regularly, or better still, carry a hand sanitizer with you and use it regularly
If you buy fruit or vegetables in the market, you should disinfect it before eating it
The incidence of dengue fever has increased globally.  It is similar to flu, but is caused by a bite from an infected mosquito.  To avoid contracting this illness, you should ensure that the room you sleep in has screens on the windows or netting.  You should apply insect repellant to your skin if you are going outdoors in areas where there are mosquitoes.
Safety
Many people are concerned about safety in Mexico due to the reports of the criminal activities in the country.  Mexico is safe to visit, but there are certain areas that have higher crime statistics.  You can obtain information about specific areas and its safety by going online.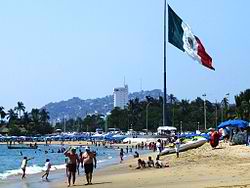 Travel
You can travel to Mexico by air, sea or land.  The mode of transport you choose will depend on the length of time you intend spending in the country.  If you are merely going for a short trip, you may limit your visit to the border zone or you could fly in.  However, to make the most of your trip to Mexico and to see as much as you possibly can, you may want to drive to Mexico or rent a car whilst there.
There are buses throughout the country, which are comfortable, economical and efficient.  However, the main aspect you have to consider is the distance you may have to travel.  You should take care if you intend using the bus service and if you intend traveling over the weekend, it would be best to purchase your ticket in advance.
Planning a trip to Mexico is exciting as it is an exciting and interesting country to visit.  To ensure that you enjoy your trip without any legal or other problems, you should ensure that you have all the necessary and required paperwork.  You should remain aware of your surroundings at all times as this will enable you to avoid any potential safety or criminal problems.  By observing these tips, you should have a safe, enjoyable trip.