Travel Guide For Acapulco
Mexico has a range of beaches you can choose from.  Acapulco was the main beach resort destination during the 1950s until it was overtaken by Cancun during the 1980s.  It is still a popular resort region, favored by those who like taking a spring break.  It is only three and a half hours' drive from Mexico City, which makes it a favored area for Mexico City residents who can take a quick weekend break.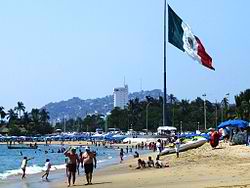 History
The area was founded during 1566, although there have been inhabitants in the region since ancient times.  Acapulco was the chief port for trade with China and the Philippines.  Pirates regularly attacked the city making it necessary to build the Fort of San Diego during the 17th Century, with it being rebuilt during 1776.  The highway which connects Mexico City and Acapulco was finally completed during the 1920s and the super highway, Autopista Del Sol, was finished in 1955 when the city was in its prime.
City
The city area is split into three areas which surround the Bay of Acapulco.  The central and east sections of the bay are known as Golden Acapulco.  This region forms the main tourist section where you will find many nightclubs and hotels.  The old city is located on the west side where you will find the market.
There are more upper-class resorts situated in Diamond Acapulco, a newer area based south of the main bay.
Activities
There is a range of activities to keep tourists busy in this area.  You can take a sunset cruise, try the seafood and party all night long.  Depending on your likes and dislikes, you will find something to do in this area.  You can take time to watch the cliff divers at La Quebrada or take a glass-bottom boat ride to Isla La Roqueta. There are many places where you can buy handicrafts and sample the local cuisine.
Acapulco is known for its nightlife and the area is filled with discos.  The nightlife starts late in this area and you will not be able to find much action prior to 11:00pm.
Accommodation
One of the iconic hotels in the country, Fairmont Acapulco Princess, is based in Acapulco.  It is a modern hotel which offers its visitors spa facilities, among many other amenities.  You can opt for a cabana as Las Brisas Resort, some offering private pools.  The hotel offers visitors great views across the bay.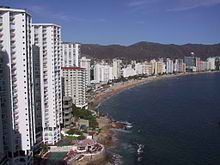 Transport
You can fly into Acapulco or take the bus.  You can also drive there which will give you the opportunity to see more of the country and provide you with transport for day trips.  One thing you must not forget if you are going to drive to the area is to buy Mexican car insurance.  This is a legal requirement and if you do not have it, and you are involved in an accident, you may find that you will be spending more time in jail than on the beach. You can click here purchase your Mexican insurance policy. It is a simple process to obtain Mexican vehicle insurance.  Simply go online and do a search, a thorough comparison of what is available, pay for it and print a couple of copies of the policy to carry with you while in Mexico.