Travel Themes and Mexico Insurance Features to Consider for Your Trip

There are many areas to focus on during a foreign vacation. Whether your interest is architecture or natural beauty, you will find that Mexico is truly enchanting. You may want to enjoy off-road exploration of jungles, or you may want to park and take a train into a remote canyon. Beaches and many other settings draw thousands of tourists annually.
It's important to travel safely, paying attention to issues like Mexico insurance, passports and toll roads so that you can enter and leave the country without difficulties.
Water Is a Big Draw
There's no doubt that beach communities attract numerous travelers. Interests may range from surfing to fishing, and it's nice to know that these activities can be enjoyed in near-the-border locations or in far-away Mexican and Mayan Riviera resort communities. If your travels are restricted because of time or your budget, you will find that Baja provides a good variety of many of the features that are sought in the Mexican interior region. You'll find great surfing as close as Rosarito. You can enjoy guided fishing expeditions all along the peninsula's coast. You can also check out museums, wineries, mountains and cave drawings. The Baja experience could keep you busy for years to come. If you have an ample budget and plenty of time to spare, however, you may want to venture through mainland to experience jungle adventures and other cultural and architectural highlights. Your MexinsuranceStore.com Mexican insurance is good throughout the country, but entering mainland and moving beyond the border zone does carry some different Mexico insurance requirements. You must obtain a vehicle permit for legal driving in the interior. Also Mexico insurance is required in order to drive now on any highway in Mexico.
Interior Attractions
Many southern cities are known for their architectural style. Open courtyards and beautiful design features attract artists, photographers and curious tourists. You can enjoy unique variations on tacos, enchiladas and tamales. As you near jungle regions, you may find that your tamales, for example, are served with banana leaves rather than corn husks. The Mexican people are creative in using their local resources to meet their needs, and this is reflected through and through in their food and their structures. You can get out the travel brochures and maps, or you can travel on a whim. Just make sure that you do so safely and well-prepared, for instance  Mexican insurance from MexinsuranceStore.com comes with FREE Roadside Assistance and a quality Mexico insurance can keep you out of jail.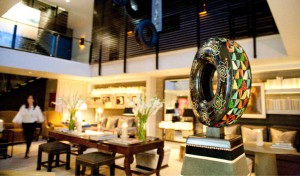 San Miguel ART festival in Mexico