Visiting Archaeological Sites In Mexico
Mexico offers those who are interested in history a range of impressive archaeological sites.  Visits to the ancient cities and the areas of interest have become an extremely popular tourist attraction.
These areas allow you to explore temples, homes and pyramids from a long ago era and offers you a view into what the lifestyle must have been like centuries ago.
Most of the sites are open every day of the year from 8am to 5pm.  It is often best to visit the sites early in the morning or later during the day, but ensure that you have adequate time to roam the site before it closes.  Going during these times ensures that you miss the heat at midday, making it a more pleasant adventure.
The National Institute of Anthropology and History (INAH) manage all the archaeological sites within Mexico.  The cost to enter the sites varies, depending on the importance and size of the attraction.  Some sites charge an additional fee which is levied by the government in that particular state, such as Chichen Itza.  If you are a permanent resident or Mexican city, admission is free on Sundays.
Some Rules to Remember
You should be aware that if you intend taking a video camera with you, you will be charged an additional entry fee.  Professional photographers who want to make use of a tripod have to obtain special permission via the INAH, which comes at a much higher cost.
It is important that you wear comfortable shoes as you may have to climb the pyramids or walk on uneven ground.  It is best to choose closed, flat shoes, such as hiking boots or sneakers for your trip.  Ensure that you carry water, sunscreen and a hat with you.  It is extremely hot in Mexico and even on overcast days, you could suffer sunburn.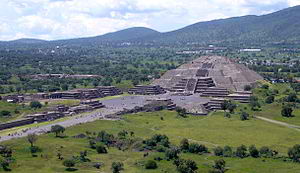 It is advisable to read a bit about the site before your visit.  This will ensure that you have a basic idea of exactly what it is you want to view.  It is a good idea to consider hiring a guide as this will allow you to get much more out of your visit.  The guides generally know the sites very well and you should ensure that the one you choose has a license from the Mexican Secretary of Tourism.  You can take a guide with you or you can hire one at the entrance to the site.  If you do not see any around at the entrance, you should enquire at the ticket booth.
Do Not Forget Your Mexican Insurance Policy
Visiting the Mexican archaeological sites will require that you drive to the sites.  This means that you should ensure that you obtain Mexican auto insurance prior to leaving home.  You can purchase Mexican auto insurance online, which is a simple and quick way of doing it.  If you forget about buying insurance before your trip, you have the option to purchase a policy at the border. You can purchase your Mexican insurance policy from this link.
Purchasing a policy at the border is usually more expensive than the online option.  You will also not have the opportunity to review your contract because of the long queues that normally exist and this could result in you not being adequately covered in the event of an accident.