A Visitor's Guide To Acapulco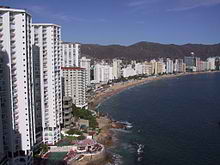 Acapulco is probably one of the best-known Mexican resort destinations.  It was one of the main attractions from the 1950s.  Unfortunately, Cancun became more popular during the 1980s, but Acapulco still remains an extremely popular resort, particularly with those taking a spring break.
It is located a mere three and a half hours drive from Mexico City, which makes it popular with residents of Mexico City looking for a weekend break.
History of Acapulco
The area was discovered during 1566, although it had been inhabited by locals for centuries.  Acapulco acted as the main port for trading with China and the Philippines.
Due to it being the main trade port, the city was often attacked by pirates.  This boosted the need for the construction of the Fort of San Diego during the 17th Century.  The fort was subsequently rebuilt during 1776.  The highway which connects Mexico City and Acapulco was finally completed during the 1920s and the superhighway reached completion during 1955.  This is what boosted the popularity of the region.
Get Your Mexican Vehicle Insurance Before Traveling to Acapulco
If you intend using this superhighway, you should ensure that you have adequate and valid Mexican car insurance.  Insurance from the US and Canada is not valid in Mexico.  The simplest method of obtaining Mexican auto insurance is to go online and do a search.  You will be confronted with a host of insurance providers and you should confirm that these are licensed providers. You can purchase your Mexican auto insurance from a licensed provider using this link. Once you have decided on the most suitable providers, it is a good idea to do a comparison of the offerings.
You will have the choice to purchase liability only or full coverage.  If you choose liability only, any damage or personal injury to you and the passengers in your vehicle will not be covered.  However, third party damages and injuries will be covered fully.  On the other hand, if you choose full coverage, damages and injuries to all parties will be covered.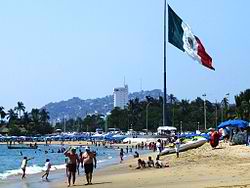 Once you have your Mexican vehicle insurance in hand, you can head off to Acapulco with peace of mind and enjoy all it has to offer.  There is a range of activities for everyone in this region.  You can watch the cliff divers at La Quebrada, which is quite a spectacular scene.  The discos in Acapulco are famous, so you can party all night.  You can opt for a romantic sunset cruise with your partner, or you can visit the city center and purchase handicrafts.  Of course, you will also have the opportunity to enjoy the stunning beaches in the area.
Events in Acapulco
The nightlife in Acapulco is often the reason for many people to visit this region.  The parties do not commence until around 11pm and can continue all night.  A visit to Mandara nightclub is an elegant event and offers a wonderful bay view.  If you are looking for something more casual, you can visit Disco Beach at Playa Condesa.
A day trip to Taxco is an interesting venture.  This silver mining town is only two hours from Acapulco.  It is a quaint colonial town which still has cobblestone streets and traditional whitewashed buildings.  You can obtain a huge selection of silver goods here at very competitive prices.
Acapulco offers different types of accommodation to suit all budgets.