Crossing The Border Into Mexico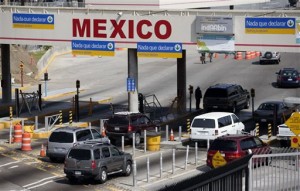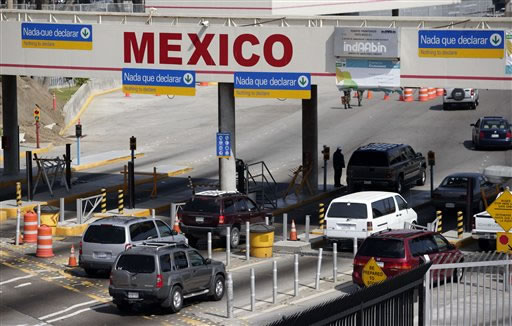 Many people are aware that a trip to Mexico offers wonderful beach destinations, such as Cancun, Cozumel and Cabo San Lucas.  Besides the wonderful beaches, there are canyons, old colonial era cities and ruins to see.  All this, as well as the interesting arts and culture that can be experienced in Oaxaca., means that you could spend months traveling through this country and still need more time to see everything it has to offer.

Crossing the Border
To cross the border into Mexico as smoothly as possible, there are certain documents you need to present to the authorities.
The documents you need include:
Vehicle registration documents
Proof of vehicle ownership
Valid Mexican auto insurance
If you have a lease or a loan on the vehicle you are driving into Mexico, you require an affidavit from the loan or lease holder authorizing you to drive the vehicle into Mexico
You need to carry photocopies of all these documents which you will need to hand over to the Mexican authorities.  It is recommended that you make multiple copies of these documents.  This ensures that if you are stopped by the authorities, you have sufficient copies to hand to them.
You should check on the costs involved for all these documents.  The information can be obtained online.  You will also need to have a valid credit card to place a deposit which ensures that your car will eventually leave Mexico.
Vehicle Permits
You can purchase your vehicle import permits online or at a consulate, before you go on your trip.  The permits can also be bought at the border.

Buying the Permit Online
It is possible to purchase vehicle import permits online at Banjercito's website.  Once you have submitted all the relevant information on the website, you will be provided with a pass code.  After one full day and within a period of 15 days of obtaining your pass code, you can go to a local Banjercito to buy your permit.

Obtaining the Permit from a Mexican Consulate
You can obtain a temporary vehicle import permit from Mexican consulates in different cities.  These can be obtained up to six months before your trip.  If you choose this option, you can choose the date the permit will be valid from.

Obtaining the Permit at the Border
Temporary vehicle permits can be bought once you have crossed the border into Mexico.  You will need to use all the required documents to buy the permit at the immigration building.If your intention is to remain within about 20 kilometers of the border (border zone), it will not be necessary to buy these permits.  If you intend going beyond this point, you need to obtain a temporary vehicle import permit and all the travelers in the vehicle require tourist permits.

Mexican Auto Insurance
For you to drive your car legally in Mexico, you need to obtain Mexican car insurance.  This insurance needs to be purchased from a licensed, authorized Mexican insurance company.  Before you purchase auto insurance, you should consider the length of time you intend traveling in Mexico. You can click here to purchase your Mexican insurance policy online.  If you are staying for longer than a month or two, it may be cheaper for you to buy insurance for a full year's coverage.